Directions to La Torre from Murcia Corvera RMU Airport (Aeropuerto Juan de la Cierva)
Click here to download a PDF of the directions from Murcia Corvera RMU (Aeropuerto Juan de la Cierva) and Sat Nav instructions.
The address of the apartment is:
C/ Tintorera, 2 – 3o A, Carretera Murcia – San Javier, 30709 Roldán, Murcia
For Sat Nav use Decimal Latitude and Longitude 37.826, -1.001915. (The North Entrance).
Please ring our property manager, using the mobile number sent to you by email, when you are leaving the airport after collecting your hire car/taxi to confirm your arrival.  If you are arriving by road from elsewhere in Spain , please call when you are 30 minutes away. He will need the make and colour of your car and the registration number.  If you decide to stop off en-route for shopping or food, please let our managers know so they are not left waiting for you!
From Aeropuerto Internacional de Murcia (Corvera Airport) (Aeropuerto Juan de la Cierva)

Exit the airport and follow the RM-16 dual carriageway/motorway towards Murcia.  You will reach a large roundabout and you will need to take the second exit towards Murcia. This takes you onto the A30 Autovia. At the next junction (158) exit right onto the C-3319 signposted Balsicas/San Javier. After 9.5 Km exit right at the junction signposted RM-F13 Sucina/El Garruchal.  At the roundabout take the second exit (signposted La Torre/San Javier). At the next immediate roundabout take the first exit (signposted La Torre Golf Resort)). La Torre is about 2 km along this road.
Arriving at La Torre North Entrance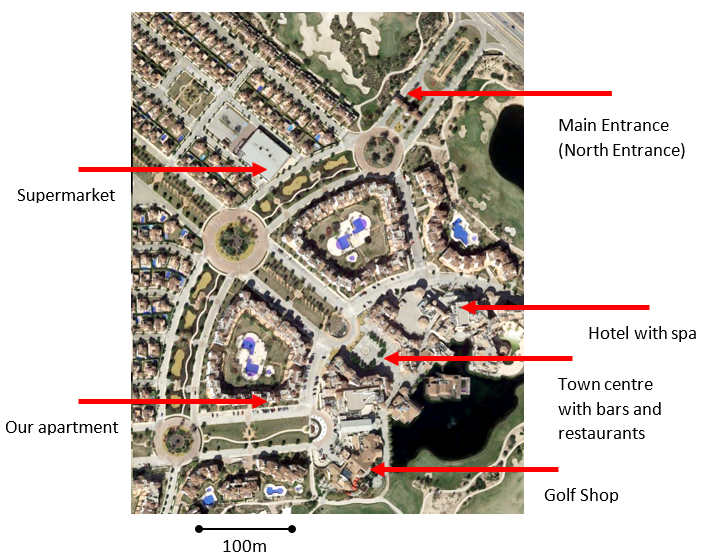 On entering the La Torre Golf Resort (the North Entrance), drive up to the security barrier. Once you are let in you should be met at the other side by our local manager, unless you have made alternative arrangements. To reach the apartment, drive straight ahead at the first roundabout (with fountain in the centre). You then drive past the supermarket on your right. Turn left after the third roundabout (signposted Golf Club House and Town Centre.) As you approach the glass fronted building at the end of this road (the club house) follow the road back round to your left. This road is Calle Tintorera. Our apartment building is now on your right. Park in a convenient slot close to the third street lamp.
Enter the apartment block in stairwell number 2 (behind the street lamp). Take the lift to the third floor. This is the entrance to our apartment.